Even if you're not a big fan of martial arts or even the big spate of movies that came around during the 70s and 80s, it's a pretty safe bet that you will have heard of Bruce Lee. He was the master!
This is to such an extent that there are several Bruce Lee slot games and casino games out there.
In this Bruce Lee slot review, we will take a look at WMS' take on the Bruce Lee brand, which offers five slots, 60 paylines, and wilds that stack up in the middle. There is a lot to play for here, and we're going to take a look at why this game is well worth your time.
Bruce Lee Slot's Sites
Check out the list of best slot sites for Bruce Lee in March 2023:
About Bruce Lee Slot Game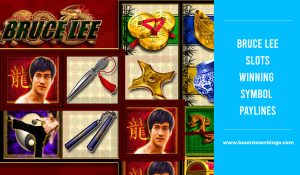 This particular Bruce Lee video slot offers an interesting design, with five reels but split columns – meaning that you'll get two rows of five symbols, and two rows of three. It's an interesting design, and it's really to its advantage. This game doesn't really go too overboard on the theme, instead introducing Bruce Lee as and when necessary, and using a nice colour scheme and balance that isn't going to turn your stomach or boggle your eyes.
The fact that the first two reels are tiny compared to the three reels at the end is a brilliant feat of design. For us, it actually helps to make the game that bit more exciting – even in free play mode! Reels 1 and 2 are markedly different from reels 5, 4 and 3.
There are plenty of Eastern themed slot games across all kinds of online casinos. However, this WMS slot really does have something extra going for it – in that it has Bruce Lee's name attached! This is a money burst slot that funnels up through its rather curious design. It has a good RTP and variance balance to help you come back for more, though we'll cover that a bit further down.
Of course, for most players, it's those lucrative Bruce Lee bonus spins that you are going to want to hold out for. You can expect stacked wilds along the way, as well as sticky symbols and more. This is a game that's been offering its unique gameplay since 2012, making it a real staple of plenty of online casinos.
How to Play Bruce Lee Slots Online
Interested in finding the Bruce Lee video slot from WMS online? Follow these steps and you'll be playing for big cash in no time.
Check out our guide to online casino lounges that support the game. You may find there is a deposit bonus you can use on the game, too!
Once you make a min deposit and claim any welcome bonus you desire, take a look for Bruce Lee and launch the title. As there are several games with the Bruce Lee branding, you'll need to be careful with the game you eventually choose!
Then, choose the paylines you'd like to play on and set your min bet or max bet.
Then, spin the 5 reels and see how you get on. Could you unlock the big Bruce Lee bonus features?
What's great is that despite the interesting style of this slot game, you'll be able to enjoy it easily across mobile devices as much as across desktops and laptops. It's a very responsive game, making it ideal for anyone looking for smooth, speedy gaming that they can dip in and out of.
Interactive Features
Here are the main bonus features and interactive moments you'll need to watch out for when playing the Bruce Lee slot from WMS.
Stacked Wilds – Keep an eye out for those wild symbols, as you might find that they stack up and give you even more of a chance to win big. They stack up on reels 3, 4 and 5 – meaning all you need to do is line up the basic symbols in reels 1 and 2!
Treasure Chest Bonus – Line up three treasure chests in reels 3, 4 and 5, and you will grab 5 free spins. In fact, there are three different ways to activate the 5 free spins here!
Mini Reel Free Spins – The second way to get those free spins with real money chances is to make sure you get four of the same symbol in those four little spaces at the left of the reels. These symbols then turn sticky, meaning that they will fix in place for each spin.
Expanded Wilds Free Spins – This is the big one! If you're lucky enough to line up the mini reel free spins as well as the treasure chests, you'll then be able to start playing for free with expanded wilds, additional wilds, and stickies. That's a lot of big bonus opportunity!
Symbols – Naturally, you can expect to see Bruce Lee himself pop up a few times on the grid. However, you can also look out for line wins from traditional vases, coins, dragon symbols, daggers and nunchucks.
What Symbol Triggers Bruce Lee Slot Bonus Free Spins?
The main symbol to trigger free spins in the Bruce Lee slot game is the treasure chest.
Line up three of them in reels 3, 4 and 5 and you will activate the main casino bonus game. Otherwise, you can trigger different twists on the free games by lining up four of the same symbols in the first two reels, or by activating both methods at once.
As well as offering a healthy amount of paylines (60), you can also rely on there being many different ways to really crack into big win territory. Casinos host all kinds of Bruce Lee games, and slots with Eastern flavour, however, this slot is amongst the most rewarding out there.
Why not try your luck with Bruce Lee and try stacking up those free spins and additional wilds?
Paylines and Stakes
When you play Bruce Lee from WMS, you can expect 60 paylines and a min bet of 1p per line. There is a max bet of £2 per line.
Bruce Lee offers a max jackpot prize of up to 250,000 coins! Therefore, even if you don't activate those big free spins deals all the time, you can expect to still win a fair amount of cash from line bonuses alone.
Of course, a lot of this will depend on the Bruce Lee RTP and variance, both of which we will examine very shortly.
Bruce Lee Slot Game Software
This version of the Bruce Lee slot game is created by WMS.
WMS is a well-known gaming brand that's known for its free spins generosity as well as its amazing list of branded slots titles. There is many a slot review out there that goes into detail about their cinematic spins!
The WMS label is actually part of the Scientific Games line, or SG Games. Other games under the WMS umbrella include The Wizard of Oz, Willy Wonka and The Chocolate Factory, Star Trek and Jackpot Party.
There are also some WMS variants on Monopoly, too. If you have spent any time at all grasping for free spins in online casinos, you'll already know that Monopoly is pretty prolific – perhaps more so than Bruce Lee at this point!
What is Bruce Lee Slots RTP?
The RTP for the WMS Bruce Lee slot is 96.04%.
This is just over the benchmark for the mark of a great game. This means that game is likely to pay out healthy amounts of money time and again. It's no guarantee that you are always going to grab those free spins, or make big money from the slot.
However, it does mean that when you play Bruce Lee, you can expect it to be pretty generous in its lifetime. Keep your fingers crossed for those free spins, in that case!
Slot Volatility
The slot volatility for Bruce Lee (WMS) is medium to high.
Medium to high variance or volatility means that you have a reasonable chance of doing well here. It can mean that you may have to play a while to rack up free spins after free spins.
However, this means the game is unlikely to be infuriatingly hard to play. Set your max bet per spin and, again, let's pray those five free spins come rolling in. Regardless – please play responsibly!
Summary
We love this take on the Bruce Lee slot, with the free spin opportunities and money burst design really dealing the deal. Watch those symbols on reels 3, 4 and 5 and grab yourself a healthy free spin package off the back of those lucrative treasure chests.
This is a game that does show its age in some ways. However, it's still tons of fun, and definitely worth grabbing, say, 20 free spins for as part of a deposit bonus. New customers to casinos offering this great game should take a look at the casino bonuses lining up right now – with a healthy RTP (96.05%), just check out the wagering requirements beforehand and throw yourself in.